Recently, the National Development and Reform Commission approved the large business jet manufacturing project of the Harbin Embraer Aircraft Manufacturing Co., Ltd., signaling not only China's first business aircraft production line to be located in Harbin, but also the first step in the high-end field of aviation for the China-Brazil joint venture.
The Harbin Embraer Aircraft Manufacturing Co., Ltd. is a joint venture between the Aviation Industry Corporation of China (the "AVIC") and Embraer S.A.. The previous joint project between the two corporations was the production of the ERJ145 passenger aircraft. The to-be-started business aircraft production project is to manufacture the Legacy 600/650 jets. The start-up capital is 12.5 million dollars and the annual production capacity will be 6 aircraft, with the annual value of production to reach 1 billion RMB. The first jet is expected to roll off production line by the end of 2013.
The legacy 600/650 jets are developed and produced by the Embraer S.A. and are regarded as two of the top business aircraft in the world. . The legacy 600/650 jets have a cruise endurance of 7,223 km and can land on and take off from airports of 4,200 m above the sea level. The Legacy 650 can carry 13 to 14 passengers. Not long ago, Jackie Chan bought a Legacy 650, which was the first Legacy 650 in the China market making Jackie Chan an Embraer S.A. brand ambassador.
Currently, the number of orders for the Legacy aircraft has increased to 18. In the current plans, by 2021, the Harbin Embraer Aircraft Manufacturing Co., Ltd. is expected to product 48 business jets.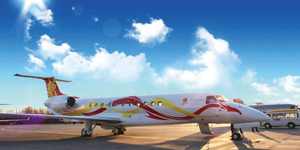 日前,国家发改委正式签发了哈尔滨 安博威飞机制造有限公司生产大型喷气公 务机项目,这不仅标志着中国首条公务机 生产线落户哈尔滨,也使以安博威为平台 的中巴航空合作步入高端领域。
哈尔滨安博威飞机制造公司是中航 工业与巴西航空工业公司的合资企业,此 前,双方合资项目为ERJ145 支线客机。 双方即将启动的公务机生产项目,主要产 品为莱格赛600/650 两个机型,启动资金 1250 万美元,年产能力6 架,年产值超 过10 亿元。首架机计划于2013 年底下线。
莱格赛600/650 机型由巴西航空工业 公司研制生产,是目前世界顶级公务机品 牌之一。续航能力7223 公里,可在海拔 4200 米以上机场起降。其中,莱格赛650 可搭乘13 至14 名乘客。前不久,成龙购 买了中国市场首架莱格赛650,并成为巴 西航空工业公司品牌形象大使
目前,中国市场确认的莱格赛公务机 订单已增至18 架。按照计划,到2021 年, 哈尔滨安博威将生产48 架公务机。